The early days of turn-of-the-millennium internet held a lot of weird, experimental treasures. In early 2003, one of those corners was born out of game designer Zack Johnson's hand-drawn stick figures and a week of fevered madness. It was meant to be more of a joke than a game, a small effort to get something, anything, done. A year later Johnson's slapdash, slapstick, slapsilly game, an online, browser-based RPG called Kingdom of Loathing, had captured the attention of a pre-YouTube internet and over 300,000 accounts had been created. If you think that perhaps those numbers were a mere flash in the pan, you'd be wrong as Kingdom of Loathing retained a strong 100,000 - 150,000 players as of 2008. 
Johnson and his small team at Asymmetric Publications pumped out regular updates to the game and to this day keep new jokes and content flowing into the Kingdom of Loathing. The game has always been free and boasts no ads, but players can donate $10 to support the game and receive an in-game item called a Mr. Accessory that acts as an item on its own or can be traded for other powerful items at the Mr. Store. Over the years Mr. items developed their own economy among the player-base that has actually been studied by economists.
After working on Kingdom of Loathing for over a decade, the team released their second game, Word Realms. The unique PC RPG tasks players with wielding words a weapons by way of a Scrabble-meets-Boggle combat system. The 2013 release went over well for fans, but seemed to generate little buzz in the more mainstream gaming world. 

Now, the year is 2016 and a mysterious little teaser has popped up for West of Loathing, a comedy RPG set in the tumbleweed drenched West of the Loathing universe. 
West of Loathing has already been greenlit on Steam Greenlight and Asymmetric Publications boasts that the RPG will hold a lot of content for players. The branching narrative will take place in an expansive world filled with turn-based tactical combat. The devs describe it as "basically a stick-figure Skyrim with beans and big hats." Players can choose from one of three starting classes to do battle with goblins, skeletons, snakes, and ghost accountants: Cow Puncher, Beanslinger, or Snake Oiler.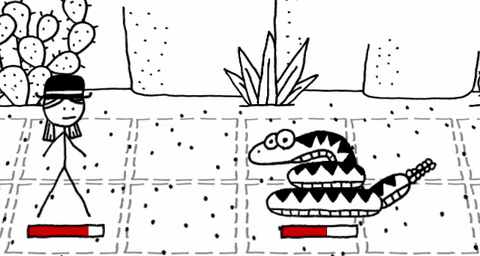 Though many players still call the multiplayer community around Kingdom of Loathing home, West of Loathing doesn't appear to be a replacement for the MMORPG. The upcoming RPG will be single-player and that doesn't seem to be changing anytime soon.
West of Loathing is slated for an early 2017 release on PC, Mac, and Linux. 
1