If Dandara hasn't been on your indie game radar, it's time to fix that. Long Hat House has developed an action-packed, gravity-bending Metroidvania title that stars Dandara, a leaping heroine who awakens to battle an oppressive force subjugating her homeland. 
While Dandara can't walk from right to left, she can leap at lightning speed onto any surface and alter her trajectory with a projectile weapon. It's a really stylish, cool, and original mechanic that the rest of the game builds upon. It's a satisfyingly kinetic experience. Then Long Hat House put that foundation into a sprawling, mesmerizing Metroidvania world that offers players a new way to approach sidescrollers.  
On top of all of that, Dandara might be the most stylish game of 2018 so far. The design of Dandara is amazing with her iconic long scarf flapping behind her as she leaps around a world made up of truly impressive pieces of pixel art. The soundtrack emphasizes the energy of the game itself, offering a staccato pace that urges the player to use Dandara's speed to execute ever more elaborate maneuvers.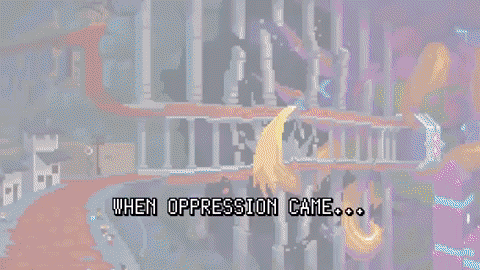 Based in Brazil, Long Hat House drew on a great deal of their homeland to create Dandara. In fact, Dandara herself is based on a freedom fighter who lived in the mid-17th century who used martial arts and strategy to defend the fugitive slave community of Palmares from slavers and attempts to subjugate the region. This isn't a story I was familiar with at all until searching for more information on the game; it's really fantastic to learn more about the heroines and heroes in other places around the world.
Long Hat House also used locations from around Belo Horizonte, their base of operations, as inspiration for in-game locales. That will explain the various pieces of Brazilian architecture found throughout Dandara.   
Dandara releases on February 6 for PlayStation 4, Xbox One, Switch, PC, and mobile.